ProTek offers three types of TVS Diode Arrays: Standard Capacitance(less than 100pF), Low Capacitance(5-100pF) and Ultra Low Capacitance(less than 5pF). In addition, ProTek's TVS Arrays product line provides protection from transients caused by Electrostatic Discharge (ESD), Electrical Fast Transients (EFT), Tertiary Lightning and other induced voltages.
These devices have been tested up to 40,000 volts of contact ESD conditions. In addition, ProTek's Standard TVS Arrays are designed to meet ESD immunity requirement IEC 61000-4-2 (Air – 15kV, Contact – 8kV), EFT immunity requirement IEC 61000-4-4 (40A, 5/50ns) and Surge (Line to Ground and Line to Line) immunity requirement IEC 61000-4-5 (Levels vary depending upon product series).
Typical STANDARD CAPACITANCE applications: Low Frequency I/O, RS-232, RS-423 Data Lines, Power Bus Lines and Industrial and Monitoring Systems. Typical ULTRA LOW CAPACITANCE applications: High-Speed Data applications such as Gigabit Ethernet (1000 Base T), FireWire and USB3.1 Interfaces and HDMI 2.1 and DVI interfaces.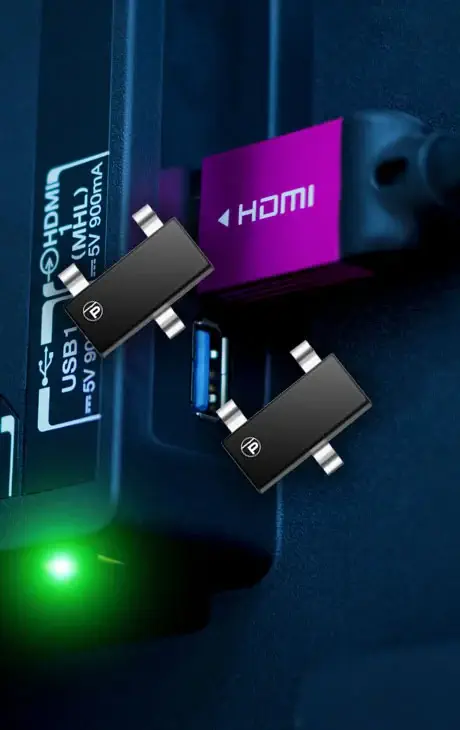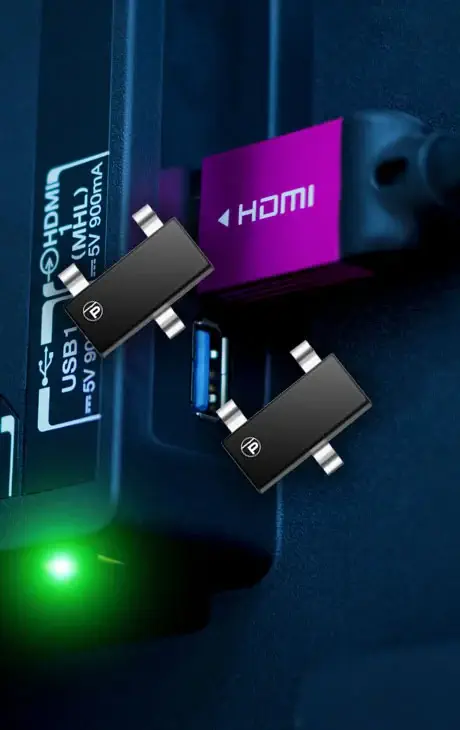 Product Line
Safeguard Your Interface
| VIEW SERIES | SERIES NAME | DESCRIPTION | SPEC |
| --- | --- | --- | --- |
| 5133 | CP & CPxxC Series | 200 Watt Multi-Line TVS Array | cp.pdf |
| 5001 | DA16 Series | High Powered Multi-Line TVS Array | da16.pdf |
| 5002 | DA8 Series | High Powered Multi-Line TVS Array | da8.pdf |
| 5319 | DFN6-36 | 300 Watt Multi-Line TVS Array | dfn6_36.pdf |
| 5562 | DFN8-36 | 300 Watt Multi-Line TVS Array | dfn8_36.pdf |
| 5331 | DL0521P | Ultra Low Capacitance TVS Array | dl0521p.pdf |
| 5369 | DSOT0502 | Low Capacitance TVS Array | dsot0502.pdf |
| 5266 | ESD4-DFN | Low Capacitance TVS Array | esd4dfn.pdf |
| 5188 | ESDA05C-5 | Low Capacitance TVS Array | esda05c_5.pdf |
| 5292 | ESOT12LCC-1 | Ultra Low Capacitance TVS Array | esot12lcc_1.pdf |
| 5194 | ESOT24LCC-2 | Low Capacitance TVS Array | esot24lcc2.pdf |
| 5183 | ESOT3.3LC-2 | Low Capacitance TVS Array | esot33lc2.pdf |
| 5178 | ESOT3.3LCC | Low Capacitance TVS Array | esot33lcc.pdf |
| 5126 | GBLC & GBLCxxC Series | Ultra Low Capacitance TVS Array | gblc.pdf |
| 5493 | GBLC03CIDNHP | Ultra Low Capacitance TVS Array | gblc03cidnhp.pdf |
| 5378 | GBLC03CIHP | Ultra Low Capacitance TVS Array | gblc03cihp.pdf |
| 5614 | GBLC15CDSLA | Ultra Low Capacitance TVS Array | gblc15cdsla.pdf |
| 5304 | GBLCSC08CLC | Ultra Low Capacitance TVS Array | gblcsc08clc.pdf |
| 5246 | GBLCSCxx & GBLCSCxxC Series | Ultra Low Capacitance TVS Array | gblcsc.pdf |
| 5415 | GBLCxxCDN Series | Ultra Low Capacitance TVS | gblc_cdn.pdf |
| 5604 | GBLCxxCDSL Series | Ultra Low Capacitance TVS Array | gblc_cdsl.pdf |
| 5242 | GBLCxxCI Series | Ultra Low Capacitance TVS Array | gblci.pdf |
| 5521 | GBLCxxCIDFN Series | Ultra Low Capacitance TVS Array | gblc_cidfn.pdf |
| 5611 | GBLCxxHP & GBLCxxCHP Series | High Powered TVS Array | gblc_hp.pdf |
| 5296 | GBLCxxLC and GBLCxxCLC Series | Ultra Low Capacitance TVS Array | gblc_lc.pdf |
| 5340 | GBLLC03 & GBLLC03C | 200 Watt Ultra Low Capacitance TVS Array | gbllc03.pdf |
| 5003 | LCA Series | High Powered Multi-Line TVS Array | lca.pdf |
| 5018 | LCD Series | High-Powered Multi-Line TVS Array | lcd.pdf |
| 5203 | MSMF Series | Multi-Line TVS Array | msmf.pdf |
| 5222 | MSMF05LC | Multi-Line Low Capacitance TVS Array | msmf05lc.pdf |
| 5256 | MSMF05LCC | Multi-Line Low Capacitance TVS Array | msmf05lcc.pdf |
| 5195 | MSMFxxC Series | Multi-Line TVS Array | msmfc.pdf |
| 5316 | P0201D05C | Low Capacitance Miniature TVS Array | p0201d.pdf |
| 5392 | P0402V Series | Ultra Low Capacitance ESD Protection Component | p0402v.pdf |
| 5466 | P0402VP24 | Multilayer Polymer ESD Suppressor | p0402vp24.pdf |
| 5442 | P0603V24 | Ultra Low Capacitance ESD Protection Component | p0603v24.pdf |
| 5302 | P5V0S1UL | Miniature TVS Array | p5v0s1ul.pdf |
| 5308 | P5V0S1ULC | Miniature TVS Array | p5v0s1ulc.pdf |
| 5345 | PAM01SC7905C | Ultra Low Capacitance TVS Array | pam01sc7905c.pdf |
| 5467 | PAM02SD23xx/C Series | Ultra Low Capacitance TVS Arrays | pam02sd23.pdf |
| 5347 | PAM03SD23xxCI Series | Ultra Low Capacitance TVS Arrays | pam03sd23.pdf |
| 5502 | PAM08SD23xx/C Series | High Powered TVS Arrays | pam08sd23.pdf |
| 5354 | PAM10ST23xxC Series | 500 Watt TVS Array | pam10st23.pdf |
| 5356 | PAM12SO824 | 600 Watt Multi-Line Ultra Low Capacitance TVS Array | pam12so824.pdf |
| 5367 | PAM17DF2L05C | Low Capacitance TVS Array | pam17df2l05c.pdf |
| 5460 | PAM1CAN | CAN BUS ESD Protection Diode | pam1can.pdf |
| 5572 | PAM1IVN27 | ESD Protection for In-Vehicle Networks | pam1ivn27.pdf |
| 5478 | PAM1LIN | 200 Watt Asymmetrical Line Protection TVS Array | pam1lin.pdf |
| 5366 | PAM21SC790501H | 250 Watt TVS Component | pam21sc790501h.pdf |
| 5477 | PAM2CAN | CAN BUS ESD Protection Diode | pam2can.pdf |
| 5573 | PAM2IVN24 | ESD Protection for In-Vehicle Networks | pam2ivn24.pdf |
| 5552 | PAM2LIN | Ultra Low Capacitance TVS Array | pam2lin.pdf |
| 5657 | PAM39SDxxAL/CAL Series | 400 Watt TVS Component | pam39.pdf |
| 5564 | PAM3CAN | CAN BUS ESD Protection Diode | pam3can.pdf |
| 5651 | PDCHSD305 & PDCHSD305C | High Powered TVS Array | pdchsd305.pdf |
| 5541 | PDFN2-32 | Automation Sensor Transient and Overvoltage Protection | pdfn2-32.pdf |
| 5528 | PDFN3-32 | Automation Sensor Transient and Overvoltage Protection | pdfn3-32.pdf |
| 5327 | PDLC05 | Ultra Low Capacitance TVS Array | pdlc.pdf |
| 5531 | PESD05B | ESD Protection TVS Array | pesd05b.pdf |
| 5530 | PESD05BLC | Ultra Low Capacitance TVS Array | pesd05blc.pdf |
| 5632 | PESD05BULC | Ultra Low Capacitance TVS Array | pesd05bulc.pdf |
| 5536 | PESD12LCB | Low Capacitance TVS Array | pesd12lcb.pdf |
| 5535 | PESD12ULC | Low Capacitance TVS Array | pesd12ulc.pdf |
| 5440 | PESD1CAN | CAN BUS ESD Protection Diode | pesd1can.pdf |
| 5476 | PESD1FLEX | FLEX BUS ESD Protection Diode | pesd1flex.pdf |
| 5439 | PESD1LIN | 200 Watt Asymmetrical Line Protection TVS Array | pesd1lin.pdf |
| 5586 | PESD2402 | CAN Bus ESD Protection Diode | pesd2402.pdf |
| 5595 | PESD24V | ESD Protection for In-Vehicle Networks | pesd24v.pdf |
| 5596 | PESD27V | ESD Protection for In-Vehicle Networks | pesd27v.pdf |
| 5469 | PESD2CAN | CAN BUS ESD Protection Diode | pesd2can.pdf |
| 5577 | PESD3V3 | Double ESD Protection Diode | pesd3v3.pdf |
| 5648 | PHS505/C Series | High Powered Surge Protection TVS Array | phs.pdf |
| 5071 | PLC01-6 | High Powered Multi-Line Low Capacitance TVS Array | plc01_6.pdf |
| 5173 | PLC03-3.3 | High Power Low Capacitance TVS Array | plc03_33.pdf |
| 5404 | PLC03-3.3-DFN | High Power Low Capacitance TVS Array | plc03_33-dfn.pdf |
| 5587 | PLC03-3.3H | High Power Low Capacitance TVS Array | plc03_33h.pdf |
| 5616 | PLC03-3.3V | High Power Low Capacitance TVS Array | plc03_33v.pdf |
| 5411 | PLC03-xxLC | High Power Low Capacitance TVS Array | plc03_lc.pdf |
| 5109 | PLC496 | 500 Watt Ultra Low Capacitance TVS Array | plc496.pdf |
| 5076 | PLCDA Series | 500 Watt Multi-Line Ultra Low Capacitance TVS Array | plcda.pdf |
| 5102 | PLCDA-6 Series | 500 Watt Multi-Line Low Capacitance TVS Array | plcda_c6.pdf |
| 5456 | PLR0503 | 9PF Unidirectional TVS Array | plr0503.pdf |
| 5338 | PLR0521 | Ultra Low Capacitance TVS Array | plr0521.pdf |
| 5549 | PLR05214LC | Ultra Low Capacitance Array | plr05214lc.pdf |
| 5574 | PLR0521E | Ultra Low Capacitance TVS Array | plr0521e.pdf |
| 5540 | PLR0521U | Ultra Low Capacitance TVS Array | plr0521u.pdf |
| 5618 | PLR0621 | Ultra Low Capacitance TVS Array | plr0621.pdf |
| 5622 | PLR1524 | Ultra Low Capacitance Asymmetrical TVS Array | plr1524.pdf |
| 5519 | PLR2210 | Ultra Low Capacitance TVS Array | plr2210.pdf |
| 5592 | PLR2512H | Ultra Low Capacitance TVS Array | plr2512h.pdf |
| 5408 | PLR3311 | Ultra Low Capacitance TVS Array | plr3311.pdf |
| 5463 | PLRxx12 Series | Ultra Low Capacitance TVS Array | plr_12.pdf |
| 5263 | PLW0501D | Miniature TVS Array | plw0501d.pdf |
| 5239 | PLW0501H | 250 Watt TVS Component | plw0501h.pdf |
| 5311 | PLW0501P | Miniature TVS Array | plw0501p.pdf |
| 5275 | PLW1201H | 200 Watt TVS Component | plw1201h.pdf |
| 5184 | PLW2.8 | Low Capacitance TVS Array | plw28.pdf |
| 5224 | PRSB6.8C | Low Capacitance Miniature TVS Array | prsb68c.pdf |
| 5312 | PRSB6.8CT | Low Capacitance Miniature TVS Array | prsb68ct.pdf |
| 5297 | PRSB6.8D | Low Capacitance TVS Component | prsb6_8d.pdf |
| 5118 | PSD & PSDxxC Series | High Powered TVS Array | psd.pdf |
| 5507 | PSDxx61 Series | High Powered Surge Protection TVS Array | psd_61.pdf |
| 5313 | PSDxxHP Series | High Powered TVS Array | psd_hp.pdf |
| 5091 | PSLC & PSLCxxC Series | 350 Watt Low Capacitance TVS Array | pslc.pdf |
| 5094 | PSM712 | 600W TVS Array - Asymmetrical Data Line Protector | psm712.pdf |
| 5085 | PSMDA05-6 | 350 Watt Multi-Line TVS Array | psmda_6.pdf |
| 5083 | PSMDAxxC-4 Series | 500 Watt Multi-Line TVS Array | psmda_4.pdf |
| 5084 | PSMDAxxC-8 Series | 450 Watt Multi-Line TVS Array | psmda_8.pdf |
| 5123 | PSMF05 | Multi-Line TVS Array | psmf.pdf |
| 5600 | PSMFxxAL/CAL Series | 400W TVS Array | psmf_al.pdf |
| 5608 | PSMFxxBL/CBL Series | 200 Watt TVS Array | psmf_bl.pdf |
| 5095 | PSMS & PSMSxxC Series | 350 Watt Multi-Line TVS Array | psms.pdf |
| 5059 | PSOT & PSOTxxC Series | 500W TVS Array | psot.pdf |
| 5289 | PSOT05CLP | 300W TVS Array | psot05clp.pdf |
| 5259 | PSOT05LCC | 300 Watt TVS Array | psotlcc.pdf |
| 5388 | PSOT05ULC | Ultra Low Capacitance TVS Array | psot05ulc.pdf |
| 5605 | PSOTxx3/C3 Series | 300 Watt TVS Array | psot_3.pdf |
| 5108 | PSOTxxKCA Series | 300W TVS Array | psot_kca.pdf |
| 5066 | PSOTxxLC Series | 500 Watt Ultra Low Capacitance TVS Array | psotlc.pdf |
| 5336 | PSSB05P | Ultra Low Capacitance - Super Speed Bus Protection TVS Array | pssb05p.pdf |
| 5532 | PTVSxxA Series | 3000W TVS Array | ptvs_a.pdf |
| 5656 | PVCOM24 | High Powered Surge Protection TVS Array | pvcom24.pdf |
| 5272 | RSB6.8B | Low Capacitance TVS Array | rsb6_8b.pdf |
| 5249 | RSB6.8G | Low Capacitance TVS Array | rsb68g.pdf |
| 5176 | RSB6.8S | Low Capacitance TVS Array | rsb6_8s.pdf |
| 5143 | SLVDA2.8LC | 600 Watt Multi-Line Ultra Low Capacitance TVS Array | slvda2_8lc.pdf |
| 5135 | SLVU2.8 | 600 Watt Ultra Low Capacitance TVS Array | slvu2_8.pdf |
| 5142 | SLVU2.8-4 | 600 Watt Multi-Line Ultra Low Capacitance TVS Array | slvu2_84.pdf |
| 5474 | SLVU2.8-4G | 600 Watt Multi-Line Ultra Low Capacitance TVS Array | slvu28_4g.pdf |
| 5635 | SLVU2.8-4LC | 600 Watt Multi-Line Ultra Low Capacitance TVS Array | slvu2_8-4lc.pdf |
| 5181 | SLVU2.8-8 | 600 Watt Multi-Line Ultra Low Capacitance TVS Array | slvu28_8.pdf |
| 5329 | SLVU2.8-8G | 500 Watt Ultra Low Capacitance TVS Array | slvu288g.pdf |
| 5035 | SM14MxxC Series | 800 Watt Multi-Line TVS Array | sm14.pdf |
| 5147 | SM16 & SM16xxC Series | 500 Watt Multi-Line TVS Array | sm16.pdf |
| 5051 | SM16LC & SM16LCxxC Series | 500 Watt Multi-Line Low Capacitance TVS Array | sm16lc.pdf |
| 5019 | SM8LC Series | 800 Watt Multi-Line TVS Array | sm8lc.pdf |
| 5031 | SMDA & SMDAxxC Series | 500 Watt TVS Array | smda.pdf |
| 5148 | SMDAxx-6 Series | 300 Watt Multi-Line TVS Arrays | smda_6.pdf |
| 5070 | SMDAxxCM Series | 500 Watt Multi-Line TVS Array | smda_cm.pdf |
| 5127 | SMDAxxCN-5 Series | 500 Watt Multi-Line TVS Array | smdacn.pdf |
| 5074 | SMDAxxLC & SMDAxxLCC Series | 500 Watt Multi-Line Low Capacitance TVS Array | smdalc.pdf |
| 5166 | SMDB & SMDBxxC Series | 800 Watt TVS Array | smdb.pdf |
| 5599 | SMDB712C | Bidirectional Asymmetrical TVS Array | smdb712c.pdf |
| 5138 | SMFxxC Series | Multi-Line TVS Array | smfc.pdf |
| 5105 | SMLCxxC-2 Series | High Powered Multi-Line Low Capacitance TVS Array | smlc_c2.pdf |
| 5088 | SMP6LCxx-2P Series | High Powered Multi-Line Low Capacitance TVS Array | smp6lc.pdf |
| 5412 | SMP6LLCxx-2P Series | High Powered Multi-Line Low Capacitance TVS Array | smp6llc.pdf |
| 5132 | SMS & SMSxxC Series | 350 Watt Multi-Line TVS Array | sms.pdf |
| 5205 | USB04 & USB04xxC Series | 350 Watt Low Capacitance TVS Array | usb04.pdf |
| 5322 | USB508 Series | 500 Watt Multi-Line Ultra Low Capacitance TVS Array | usb508.pdf |
| 5120 | VS10P03LC | Low Capacitance VSIP TVS Array | vs10p03lc.pdf |
| 5062 | VSB06P05LCI | High Powered VSIP TVS Array | vsb06p.pdf |
| 5015 | VSIP Series | High Powered Multi-Line VSIP TVS Array | vsip.pdf |
| 5257 | VSMF05LC | Multi-Line Low Capacitance TVS Array | vsmf05lc.pdf |
| 5258 | VSMF05LCC | Multi-Line Low Capacitance TVS Array | vsmf05lcc.pdf |